Top Five Classic Comedy Right From The Doordarshan Era!
Laughter is said to be the best medicine for everyone as it lightens the mental load. In these tough times of pandemic, we surely need our doses of laughter to keep motivated and happy. Today, we will revisit top five classic comedy right from the Doordarshan era that kept us fascinating for years.
Believe it or not there was a time when we had to wait for the weekend to watch our dose of entertainment on television. The millennial generation might laugh it out as some mythical tale but before all this 24X7 internet & satellite TV era of today, there was a time of time-bound scheduled entertainment era of 1980s – 1990s too.
Here are the top five comedy classic right from the Doordarshan era.
1. Yeh Jo Hai Zindagi
The first in the golden list is the Sitcom Yeh Jo Hai Zindagi that aired on Doordarshan way back in 1984.
The serial was based on the funny happenings in the lives of Verma couple. The characters were immortalised by Shafi Inamdar as Ranjit Verma and Miss India Swaroop Sampat as his wife Renu Verma. Rakesh Bedi portrayed Raja, the unmarried younger brother of Renu. With actors like Tiku Talsania, Vijay Kashyap & Sulbha Arya, it was a laughter riot for the audiences.
A trademark of Yeh Jo Hai Zindagi were the characters played by Satish Shah. He played different character in each episode as key role to the plot in the life of Verma couple. Satish Shah played the various characters so effectively that he was anointed as the King of Comedy from 1984 – 1986.
The epic serial had a total of sixty-seven episodes telecasted in three different seasons. Some more legendary actors contributed to the evergreen laugh riot including Farida Jalal, Anjan Srivastava, Avatar Gill & Ashok Pandit.
The alumni of the show went on to have glittering careers in Indian cinema and theatre over the years.
Suggested Read: Top-10 Offbeat & Weird Musical Instruments That Really Exists!
2. Dekh Bhai Dekh
Next in the coveted list of golden comedy classics is Dekh Bhai Dekh, aired on DD National during 1993 – 1994. The serial was produced by Jaya Bachchan that was created, developed, edited & directed by Anand Mahendroo.
The story was based on a joint family, The Deewans, staying in their ancestral bungalow in the sub-urbans of Mumbai. It revolved around three generations in the family having generation gap, relation-ship issues, sulking parents, complaining in-laws and business problems. All these created comical situations for the viewers to laugh their hearts out.
The serial cast included Veteran artists such as Sushma Seth, Naveen Nischal, Farida Jalal, Satish Shah and also some new talents like Shekhar Suman, Bhavna Balsavar, Deven Bhojani, Urvashi Dholakia.
Dekh Bhai Dekh was relayed in a single season spread over a total of sixty-five episodes. The perfect comic timing, heavy-weight performances and superlative scripting remains etched to millions of viewer's memories forever.
Suggested Read: How to Own a Fleet of Luxury Cars with an average salary of Rs.38,000?
3. Zabaan Sambhal Ke
The third comedy classic in the series is the Indian version of British Sitcom – Mind Your Language.
Zabaan Sambhal Ke was directed by Rajiv Mehra. The show was aired on DD Metro in prime time from 1993 – 1994 along with Dekh Bhai Dekh.
The story revolved around an engineer, Mohan Bharti, played by Pankaj Kapoor. The situation puts him into teaching Hindi at the National Institute of Language. His students include people from various fields and nationalities.
Imagine a class with the teacher hating his job, students from different cultural and national background with nothing in common? A complete chaos or in this case a laugh riot for the viewers.
The other key roles were essayed by Viju Khote, Shubha Khote, Tom Alter, Bhavana Balsavar, Anant Mahadevan and Vivek Vaswani.
Zabaan Sambhal Ke was first aired on DD Metro for fifty-four episodes and later on Home TV with fifty-two episodes.
Suggested Read: Seven Wonders of India Architectural Masterpieces From all around India.
4. Tu Tu Main Main
Tu Tu Main Main was a sitcom that aired on DD Metro from 1994 -1996. Later it was telecasted on Star Plus as its first Hindi show. The show was written by Sajeev Kapoor, created by Neerja Guleri and directed by Sachin Pilgaonkar.
Tu Tu Main Main was the show based on the love-and-hate relation shared by the mother-in-law and daughter-in-law. The two central characters were played by Reema Lagoo and Supriya Pilgaonkar with support from Mahesh Thakur and Kuldeep Pawar.
Later a sequel was also made by the name Kadvee Khatee Meethi aired on Star One in 2006.
Suggested Read: Five Incredible Mothers Fit To Be The Super-Moms From The Animal Kingdom.
5. Shrimaan Shrimati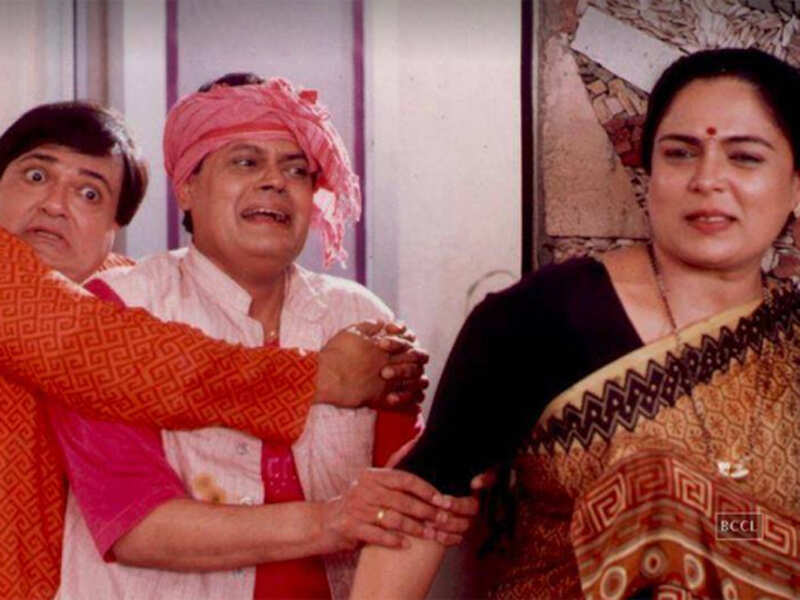 The hilarious sitcom, Shrimaan Shrimati was aired on DD National from 1994 – 1999. It was created by Ashok Patole, produced by Adhikari brothers and directed by Rajan Waghdhare.
The central characters were the common couple Keshav Kulkarni and his wife Kokila. Their neighbours were famous film actress Prema and her effeminate husband Dilruba. While Keshav was attracted to the glamorous Prema, Dilruba fell for the intelligent homemaker in Kokila. This created hysterical moments for the viewers with each one of them trying to woo their love interest and failing.
The characters were portrayed by Jatin Kanakia, Reema Lagoo, Archana Puran Singh and Rakesh Bedi.
A sequel Aaj Ke Shrimaan Shrimati with a new cast and characters aired on SAB TV in 2005. Then again, a reboot series Shrimaan Shrimati Phir Se premiered on SAB TV in 2018.
Suggested Read: Anushka Shows Her Muscle Prowess In This Cute Video.
This completes our top five classic comedy list, do let us know if you liked our story in the comment section. To receive our latest stories in your inbox, please subscribe our weekly newsletter.
In pursuit of speaking my mind out – chose to write blogs on interesting topics to present my perspective.